"SIMPLE WHATNOTS CLUB"
JUST A REMINDER TO SIGN UP FOR THE

KIM DIEHL SIMPLE WHATNOTS CLUB

The first meeting will be March 3, 2018 at 10 am
Please call to reserve your kit

It will begin in March 2018 and conclude in October 2018 with club meetings on the first Saturday at 10 a.m. starting
March 3, 2018. During the club meetings you learn tips and tricks to make the project construction easier. In addition, you have the opportunity to show off your Simple whatnot projects to other club members and see theirs as well. There will be door prizes and fun all around. The cost to join the Simple whatnots club is just $15 and $29.95 each month. If you pay for the year in full at the first meeting, you will receive a 10% discount on the monthly club fees.

Club membership benefits include the following:



A colorful handout with beautiful photographs of the project along with the project instructions, sprinkling of tips and recipes and occasional ideas for bonus projects all from Kim Diehl.



A kit including Kim Diehl's Helping Hands fabrics that will complete the project top for the month and the binding.

A 10% discount on Kim Diehl fabrics on any day during the club period (March-October 2018).

Participation in Simple Whatnots Club 7 meetings.

Tips and Instructions on project construction.

The first project is "Crackerjack".
Finished quilt size is 35 1/2" x 35 1/2"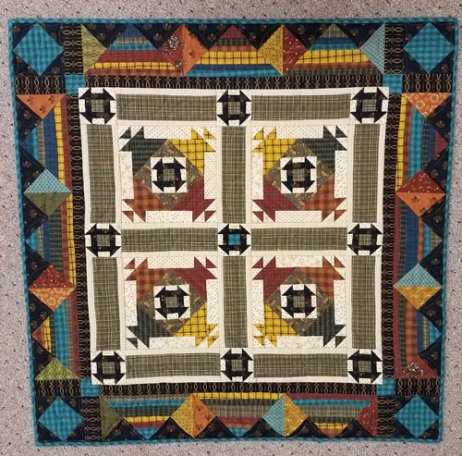 Call or stop by to reserve your membership in the Kim Diehl
SIMPLE WHATNOTS CLUB
by February 28, 2018 so that adequate kits are available.


Thank you for your continued support and friendship.
No Place Like Home Quilt Shop
204 W. 2nd - Minneapolis, KS
785-392-9065