October is PANEL MONTH!!!


Stop by the shop to see the possibilities for FALL.



Week #3 - October 17-21, 2017



Wear orange when you visit the shop and you will receive 15% off a regularly priced panel.

Halloween fabric is now 20% off. Take advantage of this great offer!

Be sure to stop by and sign up for a free panel that will be given away at the end of the month!
We have a large section of panels displayed for 50% off.

Don't forget that from now until the end of the year you can earn your 2018 Red Bag.
Stop by for more information.

Thursday, October 19, free goodies (the eating kind!)





This gorgeous "Silent Night" throw measures 58" x 70" or it can be downsized for a wall hanging measuring 34" x 48". You will want to make something with this panel!
We have kits for both sizes.





This table runner was made with 4 blocks from the "Down on the Farm" panel.
Last week we showed the Table Topper we made from this panel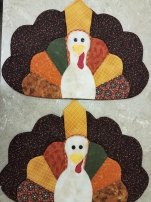 Thanksgiving is just around the corner and
we have kits for these cute place mats.
The feathers hold the silverware and a napkin.