October is PANEL MONTH!!!


Stop by the shop to see the possibilities.



Week #2 - October 10-14, 2017



Come in and see if you can find a HIDING PUMPKIN to tell you what discount you will receive on a regularly priced panel.

Halloween fabric is still 15% off.

Thursday, October 12, free goodies (the eating kind!)



This table topper was made from the "Down on the Farm" panel. How adorable is that?
Then we took the other 4 squares in the panel to make a table runner.





This cute quilt was made with a Teddy Bear panel.
There are other options rather than just putting border after border around a panel.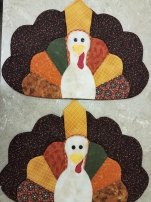 Thanksgiving is just around the corner and
we have kits for these cute place mats.
The feathers hold the silverware and a napkin.